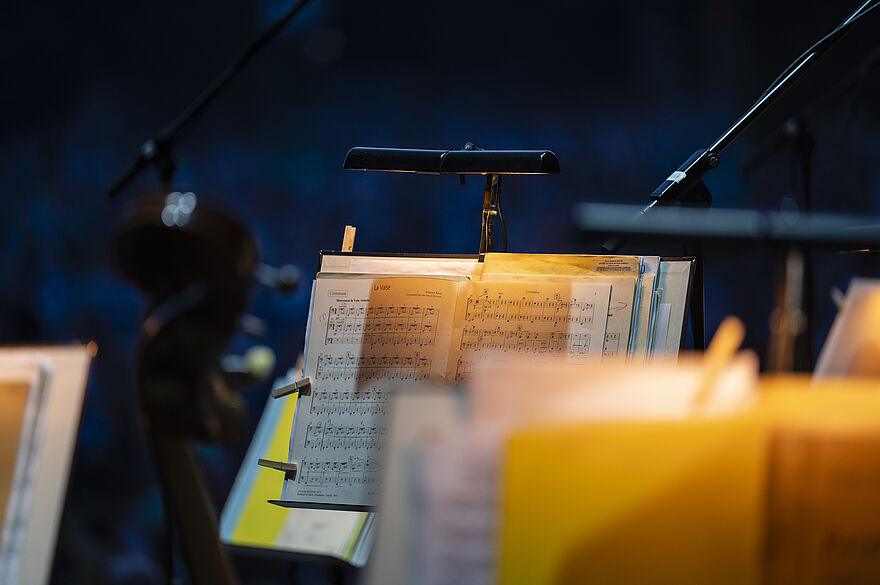 Nuremberg Symphony Orchestra
NUREMBERG SYMPHONY - EXPERIENCE MUSIC!
Artistic quality and stylistic flexibility – these features represent the trademark of the Nuremberg Symphony. Since its foundation in 1946 the orchestra hasbeen active in all kinds of musical fields: opera, operetta, oratorio, film and in particular the symphonic concert. No matter which genre – it makes music an adventure. Acting as the concert orchestra of the Nuremberg Metropolitan Region of Nuremberg, the Nuremberg Symphony brings the joy of classical music to an audience of almost 200.000 people every year performing about 100 concerts every season. While focusing on the classical and romantic repertoire in its symphonic concerts at the Nuremberg Meistersinger Hall, it is devoted to exciting projects across different genres like pop, jazz, film and literature in its series at the Music Hall. In December its Advent concerts brimming with Christ-massy atmosphere and focusing on festive baroque music are a must for the visitors of the famous Nuremberg Christmas market. And the entire world of music is covered in its programmes when performing at the Serenade Court during the summer season or at Europe's biggest Classic Open Air in the Luitpoldhain, a large park. A further centrepiece of its work is formed by the age-appropriate and interactive children's and teenager's concerts with which it committedly participates in supporting the new blood of concert goers. Thus in our concerts given in cooperation with partners such as MUBIKIN (acronym for musical education for children and youngsters in Nuremberg) the youngest sit next to the pros, whilst in the projects together with Klasse.Im.Puls youngsters with particular need of educational support may perform on stage for the first time. In 2012 the orchestra was awarded the Paula-Maurer-Prize for a special children's project. Aside from that new performance formats such as concerts for persons suffering from dementia or genre-boosting productions with pop and jazz music are in focus. The year 1993 represents a highlight in the orchestra's history: the Nuremberg Symphony won one of the coveted Grammy Awards in Los Angeles for its sensational recording of the main title music for the TV series Beauty and the Beast – the peak of a "Hollywood connection" reaching far back into the 1950's, when the orchestra recorded the film scores for Ben Hur and Quo Vadis. For a long time the Nuremberg Symphony has performed well on the international stage. World class artists such as Cecilia Bartoli, Cheryl Studer, Edita Gruberova and José Carreras made music with it and splendid names like Albrecht Mayer, Martin Stadtfeld, Cameron Carpenter, Daniel Hope, Mischa Maisky, Martin Grubinger, Sabine Meyer or Midori continuously fascinate the Nuremberg audience together with the Nuremberg Symphony. During his 8 years of being its Chief Conductor, drawing to an end in summer 2017, the brilliant and charismatic British Alexander Shelley managed to lift the orchestra to a new artistic level and to an outstanding popularity.
Being internationally celebrated by audiences and press alike, the up-andcoming star Kahchun Wong has taken over the baton starting with the 2018/19 season. With the winner of the prestigious 5th Mahler competition 2016 the Nuremberg Symphony have thus paved the way in good time for a successful future guaranteeing highest quality. At the Classic Open Air 2018 he fascinated both his orchestra and the 65.000 visitors – a brilliant and thrilling debut. Since 2003 Lucius A. Hemmer has been leading the Nuremberg Symphony as Managing Director. With his activities the orchestra has sharpened its profile considerably by extending the musical portfolio and achieving a prosperous balance between highest quality standards and successful audience taste. This reorientation has led to a regular number of international guest performances of the ensemble in Vienna, Prague, Milan and several cities in Japan and China. For the season 2019/20 there are plans for a tour to Singapore, the home country of Kahchun Wong. Inspired and self-confident, the Nuremberg Symphony carries out its interpretations "made in Nuremberg" into the whole world. Nuremberg Symphony – experience music!
Chief Director Kahchun Wong
Praised by Musical America for the "depth and sincerity of his musicality," Singaporean conductor Kahchun Wong has quickly earned a reputation as one of the most exciting conductors of his generation. He first came to international attention after winning the 5th Gustav Mahler Conducting Competition in 2016, following in the footsteps of Gustavo Dudamel, who immediately invited him to the Los Angeles Philharmonic as a Conducting Fellow for the 2016/2017 season. After a remarkable last-minute debut with the Nuremberg Symphony Orchestra (Nürnberger Symphoniker) in October 2016, Wong was swiftly appointed as its next Chief Conductor from the 2018/2019 season. In addition to subscription concerts, Wong has also conducted the orchestra during its annual appearance at Klassik Open Air, the largest outdoor event of classical music in Europe. His inaugural season with the Nuremberg Symphony Orchestra will feature a wide range of repertoire, from Beethoven and Mahler, to Bartók and Shostakovich, and contemporary composers such as Jörg Widmann, Takashi Yoshimatsu and Kah Hoe Yii. In the 2018/2019 season, Wong will make his New York Philharmonic debut at the annual Lunar New Year concert, in addition to appearances with the Royal Liverpool Philharmonic, Hamburger Symphoniker, Tonkünstler Vienna, Deutsche Radio Philharmonie Saarbrücken Kaiserslautern (German Radio Philharmonic Orchestra), Moscow State Symphony Orchestra. In Japan, he will work with the Yomiuri Nippon Symphony, Kyoto Symphony, Nagoya Symphony and Tokyo Kosei Wind Orchestra. He will also return to Orchestre du Capitole de Toulouse and Staatsphilharmonie Rhineland-Pfalz with a focus on Mahler and Bruckner, Recent notable highlights include his European debuts with the Czech Philharmonic, Konzerthausorchester Berlin, Staatskapelle Weimar, Orchestre Philharmonique du Luxembourg, Teatro Lirico Giuseppe Verdi di Trieste and Orquesta de València, as well as appearances in Asia with the Tokyo Philharmonic, Tokyo Symphony, Osaka Symphony, Kyushu Symphony, Hiroshima Symphony, National Symphony of Taiwan, Hangzhou Symphony and Shenzhen Symphony, as well as re-invitations to the China Philharmonic, Shanghai Symphony and Singapore Symphony.Wong is a protégé of the late Kurt Masur and had the privilege of sharing the podium with him on multiple occasions in his final years. He has also assisted Esa-Pekka Salonen with the Philharmonia Orchestra, Gustavo Dudamel with the Los Angeles Philharmonic, Iván Fischer with the Budapest Festival Orchestra as well as Valery Gergiev and Yannick Nézet-Séguin with the Rotterdam Philharmonic. Wong's passion for and belief in the transformative power of music education to uplift and inspire led him to create, in 2016, Project Infinitude: an inclusive arts initiative embracing children with special needs, in underserved environments, and from diverse backgrounds. In 2018, Project Infinitude is engaged in a year-long immersive program with the Singaporebased non-profit Child at Street 11, leading activities that include children organizing their own concerts and composing their own music, in addition to cross-cultural collaborations between the Nuremberg Symphony orchestra and the Singapore's Yong Siew Toh Conservatory of Music. He and his co-founder Marina Mahler, granddaughter of the composer Gustav Mahler, aim to expand the project in a sustainable and thoughtful way in Singapore and beyond for all ages.