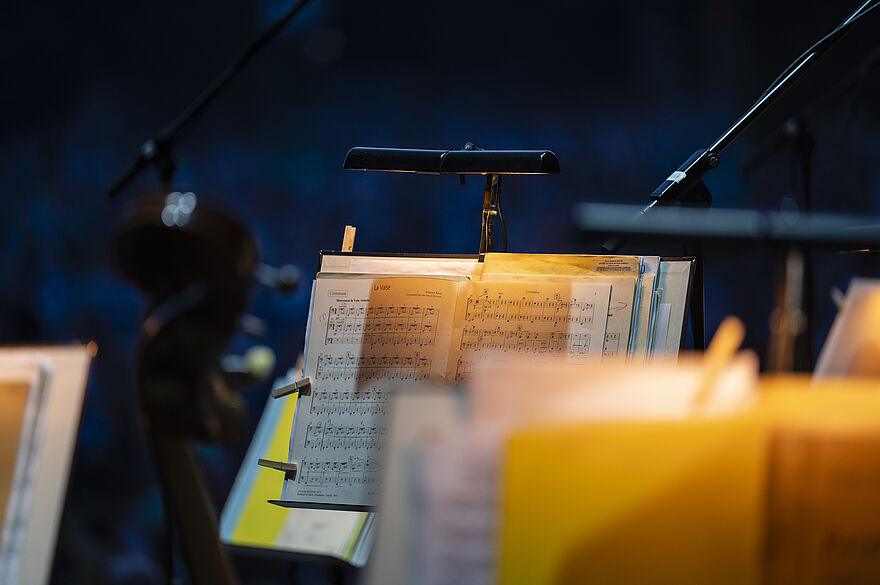 State Philharmonic Orchestra Nuremberg
The Nuremberg State Philharmonic is the major orchestra of the Nuremberg metropolitan region and the second largest opera and concert orchestra in Bavaria. In addition to about 150 opera and ballet performances annually in the opera house of the Nuremberg State Theater, it performs its own subscription concert series in the Meistersingerhalle Nuremberg, the "Philharmonic Concerts," as well as numerous special projects and children's concerts. Since 1999, the Nuremberg State Philharmonic has also organized Europe's largest classical open air concert in Nuremberg's Luitpoldhain Air, which attracts more than 70,000 visitors. In addition, the musicians of the State Philharmonic Orchestra organize a successful series of chamber concerts in their own organization as "Philharmonie e.V.".
The history of the orchestra goes back to the Imperial City Council Music of Nuremberg, which can be traced back to 1377. As early as the Baroque period, Nuremberg was one of the centers of German opera; from 1801, Nuremberg's city musicians were continuously called upon to perform at the new "Nuremberg National Theater". After the new opera house was opened in 1905, the municipal theater orchestra was merged in 1922 with the "Philharmonic Orchestra," which had been founded around 1880 and was supported by a private association. The orchestra initially had a strength of 110 musicians, which was then reduced during the economic crises of the Weimar period. Hans Gierster, Christian Thielemann, Eberhard Kloke, Philippe Auguin, Christof Prick and Marcus Bosch served as general music directors in recent decades. Numerous world premieres by composers such as Boris Blacher, Régis Campo, Hans Werner Henze, Wilfried Hiller, Paul Hindemith, Wilhelm Killmayer, György Ligeti, Luca Lombardi, Krzysztof Penderecki, Aribert Reimann, Isang Yun, Hans Zender and Bernd Alois Zimmermann were realized by the orchestra during this period. Guest tours took the orchestra to Salzburg, Nice, Krakow, New York and the Hong Kong Arts Festival, among others. The first performance of Wagner's opera tetralogy "Der Ring des Nibelungen" in the People's Republic of China was one of the major international events. The 2012 season opening with Wagner's "Tristan und Isolde" was broadcast live to more than 50 cinemas nationwide and in Austria.

In 2011, the orchestra was enlarged and renamed the "Nuremberg State Philharmonic." At the same time, the Orchestra Academy was founded. Bayerischer Rundfunk and Deutschlandradio Kultur regularly broadcast important concerts and opera performances as media partners. In 2018, Joana Mallwitz took over as conductor of the Nuremberg State Philharmonic.
Nuremberg Symphony Orchestra
Nuremberg Symphony Orchestra - Experience Music!
Artistic quality and stylistic flexibility – these features represent the trademark of the Nuremberg Symphony Orchestra. Since its foundation in 1946 the orchestra has been active in all kinds of musical fields: opera, operetta, oratorio, film, jazz, pop and cross-over and in particular the symphonic concert. No matter which genre – it makes music an adventure.
100 concerts in front of some 200,000 people are performed each year. While the Symphonic Concerts in Nuremberg's Meistersingerhalle focus on the classical romantic repertoire, the in-house Musiksaal in the Kongresshalle is dedicated to exciting genre-spanning projects from pop, jazz, film and literature. In December, the atmospheric Advent concerts with festive baroque music are a must for many visitors to Nuremberg's Christkindlesmarkt. Another special feature: the veritable open-air summer season with concerts in the Serenadenhof or at Europe's largest classical open air in a public parc.
Attracting young people to classical music with age-appropriate and interactive projects is particularly important to the Nuremberg Symphony Orchestra, as well. The beacon of this strategy is the new U-TURN | the orchestival, an innovative format combining classical and modern orchestral music, digital video art, light installations and hands-on elements in a live experience that breaks all boundaries. Classroom visit is a project in which musicians go to school or kindergarten presenting their instruments and Concerts for people with dementia or a chamber music series in cooperation with the Nuremberg museums and cross-genre productions with jazz and pop music round off the commitment.
As of September 2022, the internationally acclaimed, charismatic Briton Jonathan Darlington was named chief conductor. With his vast experience, Darlington represents a rare blend of artistic excellence, infectious vitality and charming communication skills – all of them strengths promising an extraordinarily fruitful collaboration.